Elite Staffing Solutions Blog:
06/30/2017
General Labor Wichita KS
General Labor Wichita KS – Call (316) 202-2082
Do you need work today? Do you need staff right now? Contact Elite Staffing Solutions for labor or work as early as today!

Elite Staffing Solutions can't stop winning awards for providing better labor to employers and better jobs, treatment, and pay to employees. Whether you're looking at local publications like the Wichita Business Journal, Wichita Eagle, or even the Wichita Chamber of Commerce, you will find awards and positive articles about Elite Staffing Solutions. But that's not all… Keep your eyes out for an upcoming article in "Inc. Magazine" that features Elite Staffing Solutions.
Why would you choose Elite Staffing Solutions for your general labor needs? Well, for starters, check out our dozens of positive reviews on Google and Facebook. Then look at any of our competitors' reviews.
We have found that by treating our general laborers and temporary employees much better and paying them a bit more than necessary, their performance has been extremely pleasing to all of our clients.
In the past, I have watched the owner of Elite Staffing Solutions pass up jobs with businesses who had a bad reputation for their treatment of general labor and temps. Then, a few years later, he defined his mission as people before profit. Click the preceding link to learn more about the people before profit philosophy of Elite Staffing Solutions.
Something that is really exciting for a general labor provider is that they can really change employees' lives.
ESS doesn't just provide jobs and labor. This company provides opportunities and solid futures for those who are willing to work hard and be dependable.
Not only do we work hard to provide the best workplace environment possible for our general laborers. We also vet them by observing their performance. Then, we find better paying positions where our temps can build the skills and develop career paths and futures in industries that individuals would have a hard time breaking into these opportunities on their own.
Make sure you hire the best general labor possible, or find the top general labor opportunity for yourself. Contact Elite Staffing Solutions today!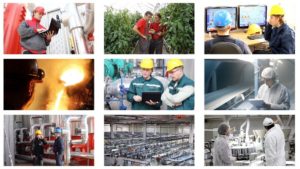 General Labor Wichita KS
Article by Mike Gamache
Back to blog