I would like to tell you about my career search journey.
Beginning Your Career Search
Why does my search for direction matter to you? I am a hard worker who has spent 20-years on an adventure to discover what I want from life. My hope is that this post may help some readers consider what they want out of their long-term career.
If you are anything like I was early in my career search, you may have drive but are still searching for a direction.
The reason I want to tell you my story is that it may help you consider the next steps in yours.
After Community College
It was an interesting pair of details that allowed me to decide on the direction of my education and career.
At 20-years-old, I had finished 2-years of general education credits at Cowley County Community College. I had no idea what I wanted to do at university to finish my bachelor's program.
In no way am I suggesting that college or university is the only option. I was not a school-type, but I am the type to finish what I start. Honestly, that is the only reason I have a degree. Not because I'm good in the classroom. It was simply because I started something with no direction and I have always been good at seeing things through.
The Summer after I completed my junior college courses, I was working odd hours driving a forklift in the basement of the Wichita Eagle.
On nights that I didn't work, I stayed up late, searching the internet for ideas of what to do with my life.
My biggest passion in life up-to this point was action sports and the videos of my favorite athletes pushing the limits. I had dreamt of producing the videos myself, but it really did not seem like a viable career. Especially in 2003, before streaming video, Youtube, smart phones, and affordable video production equipment.
The Night I Discovered My Career
One night, Sumer of 2003, I was watching a computer-animated Spiderman cartoon in the background while taking an online survey to understand my own personality a bit better.
The survey helped me put aspects of my personality into words… "I am a:"
Person who needs new and different challenges
Creative
Tactile, hands-on person
Person who likes a changing work environment.
As I was completing the survey, the Spiderman cartoon showed Peter Parker capturing videos for the news. Something clicked and the decision was made. I was going to produce videos.
Attending University
I spent the next several days searching for in-state video production programs. A majority of my friends were K-State fans at the time, and with little knowledge of the video production program, I enrolled at Kansas State University.
K-State had a great Broadcast Journalism program. At the same time, I quickly learned that I was interested in long-form productions such as documentaries. I also began producing stunt-riding videos that played on our college access channel.
After College
After 3-years of college courses and video production experience at the university, I moved off to Colorado Springs for an unpaid internship.
After the internship, I spent a few years searching for a job in my field. With no luck, I couldn't even find entry-level work in Denver or Colorado Springs.
I didn't give up on my goal of earning a good living from producing videos.
Over time, I scored freelance production contracts for companies like Disaboom X-Jet, and The History Channel.
2-years after I had graduated, I finally achieved a high-end position as a Video Producer at a 20 year-old production house in Washington State.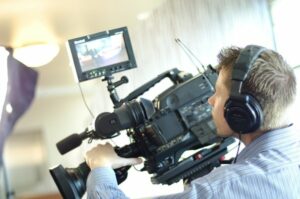 I wrote about this moment of my life during a previous post. The short version is that I finally achieved my dream job. I had won nationally-renowned awards within my career field. I was traveling all over America and Canada, sometimes on a client's Learjet. Still, I was unsatisfied with living my dream career in the place I wanted to move to.
Moving Back To Kansas
After two-years, I came back home to Derby, KS and spent the next four-years building a real estate marketing business and brokerage.
During that time, I developed several entrepreneurial concepts, while learning some great lessons and losing all of my net worth. Good thing I was young.
I finally decided to throw in the towel in 2014.
Moving Away From Kansas Again
I figured my financial recovery would take 5-years whether I was in Wichita or elsewhere. So I applied for a bartending job on the ski slope in Breckenridge, Colorado and re-joined the workforce.
Over the past five-years, I've held a wide variety of positions as a mountain employee. I've been a bartender in Breckenridge and Vail, managed a valet staff in Breckenridge, worked on a division of Ski Patrol in Keystone. I've even worked two Summers as a professional Downhill Mountain Bike Coach in Keystone.
My Career Discovery
All of the jobs I've worked in the mountains have only solidified the discovery that I've made for myself. That discovery is my true passion and desire for self-employment. I have also developed a lot of valuable skills and experience from almost every job I've ever had. Without that experience, I can't imagine a successful path of self employment.
Now I am working for myself again, producing documentaries, motorcycle videos, and event videos.
I feel extremely fortunate to have experienced every job or career desire I have ever set my mind to. And I am even more fortunate to have the reinforcement of knowing even the most enjoyable, active, or lucrative job is not right for me if I am working for someone else.
I am not encouraging anyone to follow my path. Self employment is not the best path for many people. Your path should be your own, whether it is similar to mine or completely different.
Work Experience Is Valuable
There are so many valuable aspects of work experience as an employee. Even for work that does not directly relate to your career path or long-term plan.
No goal can be achieved without working hard and making sacrifices along the way. Sometimes it means just brining in a paycheck for a while. Even if your work isn't your dream. It's supposed to be a temporary step on your journey.
No matter what you desire to do with your career and life, there is little chance of success without real work experience. Not only can entry-level jobs teach us practical skills, they also help us develop our work ethic and professional persona.
Elite Staffing Solutions is here to help good workers find jobs and future opportunities.
Best Wishes in Your Career Search!
My hope with this post is to provide a bit of food for thought so that you can someday discover your own career and life desires. I hope that this post helps readers seek a path, whether it is similar or completely different from my own.
Post by Mike Gamache – ESS Blogger, Cinematographer