Whether you are graduating high school, trade school, university, or grad school, these post graduation tips for job seekers can help with early success on your job search.
Think beyond the job function
You know what you want to do, but you don't know what company to work for.
Search for organizations with growth potential. Find companies that promote from within. Businesses who invest in employee growth via education and mentorship. Don't get stuck in a dead-end that you don't want to be in two-years later.
If you have found the job that will give you the transferrable experience you desire but it has little opportunity for growth, glean every bit of experience you can possibly gain, but keep the goal in mind that your work today is training you for your future jobs elsewhere.
Be a great employee, and when the time is right, always leave on good terms with proper notice. It is amazing how many relationships that feel irrelevant now could help your career in the future.
Learn From Your Successful Contacts
Do you have friends or contacts from your education that have succeeded on the path you are pursuing? Set up professional meetings for coffee, lunch, or at a location of your contact's choice. This meeting is referred to in the industry as an "informational interview"
Your purpose is to learn about their successes and challenges. Try to understand the hard lessons they've learned without having to pay the same expenses for that knowledge.
Performing informational interviews can you gain extremely valuable knowledge and tactics during your job pursuit. You might even receive a referral from your contact.
Craft Your Skills and Resume
Your resume provides a very short amount of space to show that your skills, education, and experience are a great fit for the position. Make every entry count. You have much more skills and experience throughout life, education, and early jobs than your resume will show.
Never apply for a job without taking the time to craft your resume to that position. Always be truthful, but be resourceful in describing attributes that will make you the best fit for the job. Think beyond your recent experience and education. Consider how past experience at a student job is relevant to the position you are seeking. Think about activities, sports, and organizations you have been involved in.
As you custom craft your resume, remember, it never hurts to develop extra skills. Especially if you see certain skills or credentials that you do not possess that are common in the job postings you've been seeking.
Job Hunting is a Dynamic World
As you delve into your career pursuits, make sure to seek advice beyond this post. Consider the pointers in this article, and check out the link at the top for more details about these post graduation tips for job seekers.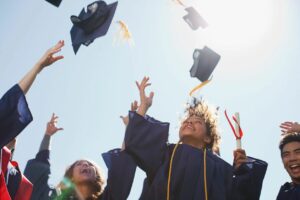 Post Graduation Tips For Job Seekers
If you are looking for Wichita Area entry level experience, contact Elite Staffing Solutions today at (877) 500-0420
Post by Mike Gamache – ESS Blogger, Video Producer