General Labor Wichita KS – Call (316) 202-2082
Do you need work today? Do you need staff right now? Contact Elite Staffing Solutions for general labor Wichita KS today!

Elite Staffing Solutions can't stop winning awards for providing better labor to employers.  We also provide better jobs, treatment, and pay to employees. Whether you're looking at local publications like the Wichita Business Journal, Wichita Eagle, or even the Wichita Chamber of Commerce, you will find awards and positive articles about Elite Staffing Solutions. But that's not all… Keep your eyes out for an upcoming article in "Inc. Magazine" that features Elite Staffing Solutions.
Why Use Elite Staffing Solutions for Wichita General Labor?
Why would you choose Elite Staffing Solutions for your general labor needs? Well, for starters, check out our dozens of positive reviews on Google and Facebook. Then look at any of our competitors' reviews.
We have found that by treating our general laborers and temporary employees much better and paying them a bit more than necessary, their performance has been extremely pleasing to nearly all of our clients.
In the past, I have watched the owner of Elite Staffing Solutions pass up jobs with businesses who had a bad reputation for their treatment of temps. Then, a few years later, he defined his mission as people before profit. Click the preceding link to learn more about the people before profit philosophy of Elite Staffing Solutions.
Something that is really exciting for a general labor provider is that they can really change employees' lives.
ESS doesn't just provide jobs and labor. This company provides opportunities and solid futures for those who are willing to work hard and be dependable.
We work hard to provide the best workplace environment possible for our general laborers. We also vet them by observing their performance. Then, we find better paying positions where our temps can build the skills and develop career paths.
Make sure you hire the best general labor possible, or find the top general labor opportunity for yourself. Contact Elite Staffing Solutions today!
The Value of Experience –  General Labor Wichita KS
Why is General Labor experience valuable to all types of employees? There are many reasons.
Many of us live a fairly sedentary life. Our past experiences including school and jobs have conditioned our minds and bodies. They have taught us to feel as if the walk to the bathroom is a burden.
Physical Activity
When properly approached, general labor positions provide the opportunity to further utilize the body. These positions allow us to burn more energy, which can translate to losing weight and burning fat.
Work Ethic
A solid work ethic is something that appears to be diminishing over time. General labor positions help everyone realize and appreciate a good work ethic. That work ethic can also apply to any type of position as long as the employee consciously chooses to apply that work ethic.
Opportunity
As entry-level work, general labor opportunities can provide direction for an employee's job and career ambitions. They can expose general laborers to skilled trades, then get a foot in the door with employers who specialize in the trades of interest.
Some of us are not cut out for administrative and office work. Being outdoors or at least working with our hands and bodies helps the time pass faster, and may really be where our personal strengths lie… For those of us who just prefer a blue collar, physically demanding position, general labor and skilled positions are far more appealing.
Whatever the case may be for you, everyone can benefit from the experience of general labor, whether it be on a long-term or temporary basis.
Why Hire Wichita General Labor through an agency?
Well there are several valuable reasons to hire General Labor staff through Elite Staffing Solutions.
Dependability
When you hire staff for your manual labor needs, you want people who will show up on time, ready and able to get the job done in a timely manner.
At ESS, we have a wide range of relationships with capable employees who we have already vetted and worked with on previous jobs. It is quite likely that we have already experienced good results from the employees we send to your job.
Unfortunately, we do not have the perfect number of general labor employees on standby at all times. Fortunately, we are very good at finding the right staff for the right job. As an extremely successful Wichita employment agency, we were recognized as the fastest growing business in Kansas for 2017 and made number 160 on the prestigious INC500 list of fastest growing businesses in America. We are exceptionally good at finding the right employees for the right job. Its what we do.
Reduced Liabilities
When you use Elite Staffing Solutions, we provide many protections to ensure that you are not permanently stuck with a sub-par employee… You are not obligated to keep an employee for any certain amount of time. Your business can let non-performing staff go at any time without further obligation.
You can also use our staffing service to hire an employee as a temp, then bring them on full-time via direct hire once they have proven their worth to your team or business.
In many cases, we have protections in place for workman's comp and liability insurance as well.
Contact us or call (316) 202-2082 to learn more today!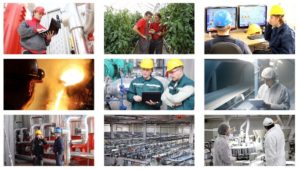 General Labor Wichita KS
Article by Mike Gamache – Blogger, ColoradoMountainLife.com
Do you need the best at a skilled position? We do Direct Hire too!