The Mission
A few months back I came across a post on the Chris, owner of Elite Staffing Solutions' personal Facebook page. This post was a speech that he gave to the Wichita Chamber of Commerce.
Even though it was pretty personal, it was presented publicly, so I asked him if I could share it on the ESS blog.
Chris, being the open person that he is said "Sure, go for it."
So, I won't waste any more time getting to the point… The following is the transcript of a speech that Chris gave to the Chamber.
___________________________________
Chris Rickerson's Facebook post and Chamber of Commerce speech
3 AM cant sleep. Pretty sure I am supposed to share my speech that I gave to the chamber with you all. The question the chamber had for me was
Chris, we understand Elite Staffing Solutions has experienced tremendous growth in the 3 years you've been in business. Tell us a bit more about your mission, "People Before Profits" and how that's contributed to your success.
MY ANSWER
I want to paint a very clear picture People before profit was not how Elite Solutions was started. I did not start my company with the thought or attitude of helping others. As a full-time single parent of three very small boys. at the time they were 6,5 &3 Coming from poverty myself my main goal was for my children not to grow up like I did. I was determined that the cycle would end with me.
Staffing by nature can be an oppressive industry often times it is built on the backs of people who can barely make ends meet. These people come to us from all walks of life. some are in that spot by choice and others by circumstance, but its undeniable that they are all in need. it is my goal to give as many as possible hope. simply having money or a profitable business has taken a back seat to building people up and having a positive impact on there lives
. When I started my company I saw opportunity. I saw subpar products and that service had been lost in the staffing industry overall. This equalled opportunity for me and I seized it. I identified a Staffing solution to the problem customers were experiencing. I saw that by paying the employee slightly more money everyone would win. the employee would win with a slightly better quality of life. The client would win because they would have a happier more dependable employee. I would win even though I was less profitable because my jobs would be easier to fill and my success ratios would be higher than my competitors. I was able to see beyond the profit margins that are blinding to an established company. This was an epic strategy that left may competitors scratching there heads. but my purpose was still profit.
I began to experience finical freedom rather quickly. I really began to struggle with what I was doing it all for. I remember going to see my aunt who also happens to be the best business banker Town stacey gray she's with emprise. I withdrew a stack of cash. More cash than I should have been running around town with and I placed it on my desk. in hopes that it would inspire me. I was trying to remind myself why I do staffing. Temporary labor is extremely stressful. especially when you do on demand staffing like we do. The short version is that the money did not inspire nor motivate me.
For me my ideas of success have changed. I used to weigh success by my finical situation and that is still important to me but as I grow in my faith it is becoming more important to encourage and impact the people that I am coming into contact with on a daily basis. And to be a good steward of what I have been given.
It took two more years to figure out the mission behind Elite Staffing Solutions . I come from an extremely hard background my mom was an addict and by 16 I had dropped out of High School and was living on the streets by myself. Struggled into my mid twenties. Its through that hopelessness that I was able to become an overcomer. I can look back at my situation and identify the personality traits that helped me not just survive but never give up on myself. I look for those traits in my employees today. I Have a story and I choose to share it because by doing so I get to share hope. I sew into as many of the employees as I can.
we are committed to building people up and helping those that others might overlook.
I have found my purpose and my team helps me to live that out daily.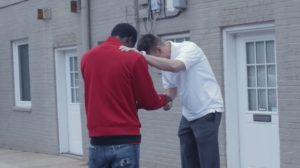 The reason I chose the mission statement people before profit was so that I would be held accountable. It becomes more difficult to ignore if my people are treated as less than on a client site. It causes action and it makes us own it. My team will tell you if my "people aren't treated like people more than once we have walked away from the dollar. We sew back into the Wichita community big time. To the point that some might call it foolish
my mindset has simply shifted on what success is. We help those that want it and are willing to help them selfs. We don't just give jobs We are building people up by sharing our resources, struggles, testimony and success. And I'm pointing to Jesus all the way because he is the reason for people over profit.
__________________________________
Wichita is a special place. Sometimes you have to look hard, but I believe there are more genuinely good people in the ICT than in any other major metropolitan market in America. Thanks to Chris Rickerson and the team at Elite Staffing Solutions for contributing to this amazing place that is Wichita, Kansas!
The Mission
Speech by Chris Rickerson
Blog post by Mike Gamache
Blogger, Colorado Mountain Life
Don't miss out on your best employee yet, contact us to learn more about our Wichita Area Direct Hire services!