Even when things are rough, we have it good in America.
Growing Up In The Wichita Area
I grew up in Derby and Wichita Kansas. I was very fortunate that I always had a roof over my head, food in the fridge, and health insurance. My parents worked hard and lived beneath their means so that the family was always comfortable.
I had never experienced need in my childhood. As a result, I was far less grateful for the life I lived than I am today.
Learning About Being Broke (Not Poor)
I learned about being broke well after college. After I was successful in the career I went to school for.
I have worked hard for a lot of people. Still, I have always been the type that was built for self employment.
I actually met Chris, the owner of Elite Staffing Solutions when I was working for myself in Wichita. I used his staffing services when he was employed by another company. Then, I used Elite Staffing Solutions after they opened.
Part of my story is that I have run out of money and credit with startup business ventures more than once. This has lead me to be grateful for everything I have, no matter how seemingly insignificant. That's not the end of the story though.
Living In The Basement Of My Office
The first time I went completely broke, I moved into the basement of my previous office in a complex across from Dillons at Harry & Webb in Southeast Wichita. I lived there for 9-months refusing to give up on my business.
Eventually I had a few nights where I could not find the spare change to buy ramen noodles. This happened around the same time that my business partner and I had a dispute. I decided it was time to make a change and start over in the US market that I most wanted to live in. That market was Summit County Colorado, home to the Breckenridge, Keystone, Arapahoe Basin and Copper Mountain ski resorts.
At this point, I had used up my inheritance, credit, and all of the money I saved over the previous 4-years as an employee.
Something Liberating About Going Broke
There was something liberating about ruining my credit and finances. Basically, I was screwed, no matter my location. As a result of this realization, I was able to asses where I wanted to live the most in the USA. I got to think about the life that I wanted to live. I researched where my business would be the most profitable and successful.
Starting Over In A New Market
Rebuilding was going to be hard no matter where I did it, so the failure of my business created the freedom to start from scratch in the best market for my business and for my self.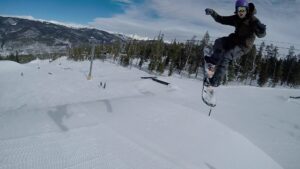 Almost every entrepreneur understands the feeling of defeat that comes along with re-joining the workforce as someone else's employee. Most of us have done it a few times along our path to success. At the same time, I did enjoy many aspects of full-time employment. Steady income is one of the benefits for sure.
But Wait, There's More
I wish my story got easier from this point. Sadly, I sustained at-least 11-bone breaks within my first few months living in Breckenridge. One of the injuries included breaking my ankle in 7-places. Before I knew it, I was completely out of money once again. Unfortunately, I was dedicated to staying in the mountains, so I eventually ended up homeless, disabled, and then my clutch went out and I couldn't even find a way back to my friends and family in Wichita even if I wanted to.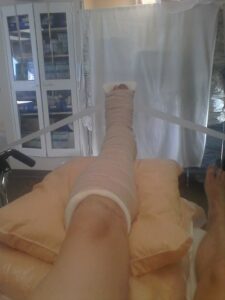 I still had my short-haired dog but I was unable to walk him. Fortunately, a local church I was not even a part of learned about my situation. They found me 3 short-term households to live in while I figured my income out.
The next five-years of financial recovery have taken a lot of hard work as an employee while I continue to build a business and do contract work on the side.
The Silver Lining
While I was bouncing from one short-term residence to the next, I went back to work bartending while wearing a plastic boot for five-months. This is when I met the woman who is now my wife. Her name is Jodene.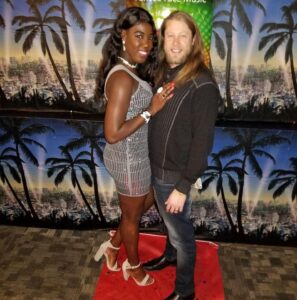 I have always loved learning from people with different life experiences. My wife had just arrived within the last few months on a work visa from Jamaica.
Learning How Good We've Had It
Before I knew much about her life, she spoke like someone who grew up in Derby, KS where I did. I wouldn't have even known she was of a different nationality if I were to speak with her on the phone. She never told me about the challenges and hardships of the life she knew before she moved here.
Once she begun to open up about her life and her past, I started feeling ashamed of the self pity that I chose to engage in during my rough times. Many of the hardships I experienced were the result of risks I chose to take. Risks that most people in the world would not have the luxury to focus on.
I always had family if I were ever in really really bad shape. I was never desperate in life for anything.
Learning About Others' Struggles
As I became closer with my wife and her family, I realized that they had it way harder than anyone I have ever known in the USA. Still, they never complained. They never focused on how much harder they had it. They just did what they had to do to keep on living, while smiling and laughing along the way.
I have worked with hundreds of young people from all over the world during the last five-years. So many are so much happier than us, even though they may have it so much worse than us.
It has taken me a while to acknowledge how good we have it here in America, even when things are going bad.
I have begun to understand poverty in the world that is far worse than that at home. I have learned that America really does provide many safety nets. Forms of government, community, church, and local assistance that are not available most places in the world.
My Changed Perspective
Growing up, I saw poverty as a small house in a less-than-ideal neighborhood. Now, when I think of a small house with electricity, running water, heat and A/C I feel like residents are living the good life.
I understand that Wichita, KS isn't the prime example of poverty in America. I am glad that it is far from it. Still, I am only starting to learn about real life and real poverty beyond what I have experienced. I have seen that at its worst, the United States and our local community of Wichita Kansas are still extremely extremely fortunate and far richer than most of the world.
Happiness From Afar
One amazing thing about marrying into a Jamaican family is that I have witnessed joy and happiness in ways that our current American culture rarely shows.
My new family is always happy, even after a long hard day. They don't let surprise expenses upset them, even when cash is thin. They always help each other however is needed and never expect anything in return.
Nobody seems to focus on how much better the next thing will be. No one is upset with life because they don't have the car, home, or job that they desire. They know happiness in the moment. They find joy in living and interacting with one another.
Great Virtues Growing Up In Kansas
There are so many great virtues growing up in Kansas teaches us. The most important thing I learned growing up in Wichita is that hard work pays off and not to over-extend myself.
At the same time, learning from others who have experienced different challenges than we have can make us grateful for everything that we do have. Many of those reading this post learned to work hard growing up in Kansas. Now, hopefully we can all learn to be happy in the moment like my new family from Jamaica.
A Story You Might Benefit From
If you are an ESS employee and you need some perspective about life, talk with owner, Chris Rickerson. He has some valuable and unique insight and some compelling stories to tell.
Even When Things Are Rough, We Have It Good In America
Post by Mike Gamache – Blogger, Cinematographer
If you are seeking entry-level work opportunities, contact Elite Staffing Solutions at (877) 500-0420