General Labor Wichita Kansas (316) 202-2082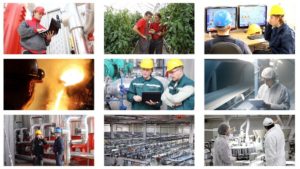 Do you need personnel for general labor, skilled or unskilled? You are in the right place! Elite Staffing Solutions is the fastest growing business in the Greater Wichita Area from 2014-2015 for a reason!
Whether you need a part-time temp employee for a day or a large crew for a long-term project, it is our passion to provide the best labor at the most competitive price for your specific job.
Do you need help in the aircraft industry? Hit us up for personnel with a wide variety of skills and pay ranges. Construction help? Of course we have the team you need! What about clerical and administrative work? We work with some of the most amazing individuals an employer could ever hope for, and we are excellent at finding and vetting more office staff.
At the end of the day, there are several service providers for General Labor in Wichita KS, but there is only one Elite Staffing Solutions. The reason we have such great ratings on Facebook and Google is that we believe in treating our employees with the professional respect and dignity that any person in the American workforce deserves. As a result, our general laborers genuinely care about their performance on the job. We have learned that treating employees well provides the best return on investment with your labor budget.
Don't waste any more time working with one of many run-of-the-mill staffing agencies who are only interested in their commission check. Use a Wichita employment agency that values your business like water or oxygen. After all, without our amazing clients and customers, we wouldn't be here, providing the best staffing in Wichita KS.
If you need a general labor position, contact us or come by the office today. We might even be able to put you to work immediately!
General Labor Wichita Kansas
By Mike Gamache, Journalist, Colorado Mountain Life
Call (316) 202-2082 to learn about our Wichita headhunting service!