Wichita State University TEDx Talks – Mercy Umeri Tells Her Story
First, hearing the Wichita State University Speaker, Mercy Umeri's story about public school in Africa makes me grateful for the Wichita Public School, Southeast High that I attended.
Kansas Education VS Umari's Experience in Nigeria
When I was young, I took many things in life for granted. For instance, having a ride to school and eventually a car.
Not only am I grateful for the Wichita public school system, I am thankful that I never once had to walk to school hungry. Something else I wouldn't have thought much about growing up.
As I continued watching the video, I became even more grateful for the opportunities this American life has provided.
I remember how I was never personally a fan of school. Because of this, I didn't have any direction at the end of high school.
Fortunately for me, I have good parents. Mom was an educator, So she basically pushed me through the ACTs and Junior college enrollments. She helped me apply for scholarships that I earned. Not to mention, my parents and grandparents invested tens-of-thousands so that I could earn a Bachelor's Degree from Kansas State University.
Umari's Experience With Education
Ms. Umeri explains that she was accepted to a prestigious college in Nigeria. Sadly, her family did not have the funds to send her to college.
Mercy explains that her mother sold her only tangible item of value to send her to her first semester of college. It was a collection of valuable textiles. The sacrifice that her mother made could only fund the transportation to school and the first semester, so the Speaker explains that she made money by cooking for students.
Ms. Umeri was the only person in her family to ever attend college at this point.
After Her College Career
After college, she spent a year working with the Nigerian equivalent of the Peace Cops.
Mercy Umeri was assigned as a teacher at a school that was supposed to be mixed-gender. To the contrary, her first class had only five-girls out of 60+ students.
She was told that girls are not allowed to attend school by their families, then they marry at age 13 or 14.
Umeri developed a program to expose more local girls to school and decided to stay for an additional seven-years after her service time was complete.
Over time, she continued to develop a non-government organization to provide access to education for girls in the region.
Helping Women With Small Businesses in Nigeria
After getting married and having children, Mercy and her husband had to leave the area for the safety of the family.
They moved to the capital where she discovered a large portion of the population's bread winners were women. Women who were operating small businesses with little knowledge of how to do so.
She began a firm that taught the women basic small business skills. Assets like book keeping that would help them obtain funding from banks.
Furthermore, her firm taught skills like customer care and customer retention. The outcome: many women were able to grow their businesses and increase quality of life.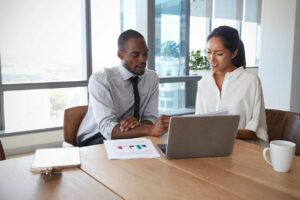 Pay It Forward
In conclusion, she speaks about giving to the world one person at a time. Then explains how the results can grow and be passed on to make a big difference.
Wichita State University TEDx Talks – Mercy Umeri Tells Her Story
If you are looking for opportunities to work today, or for a new career path, call Elite Staffing Solutions at (877) 500-0420
Post by Mike Gamache – Multimedia Guy