The Wonderful Wichita Workforce
Its no secret that the Wichita Workforce has grown in a place that started as a trading post on the Chisholm Trail in the 1860s. A place that became an official incorporated town in 1870.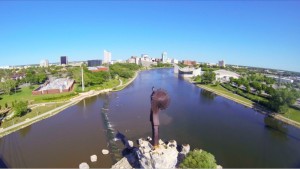 Since its inception, Wichita has been a city that values work ethic. In the beginning, Wichita was a stop for ranchers on Cattle Drives. It has always been a fertile farm community, and starting in the 1920s, Wichita's aircraft industry began with several companies including Beechcraft, Cessna, and Stearman Aircraft. As we all know, Wichita has been dubbed the "Air Capital" of the world with several additional aircraft manufacturing businesses, including Airbus, Spirit Aerosystems, Boeing, Bombardier, Learjet and many others!
The heart of this place that we call home was built around traveling ranchers, farming, and industry. We have a rich industrial history which goes beyond aircraft with manufacturing and energy businesses like Chance Rides, Big Dog Motorcycles, Koch Industries and so much more.
Our Midwestern culture is based on history of hard working Kansans and it is still visible today. As one travels, nuances of other societies can stick out. Excursions farther from the Heart Land and into other American communities reveal that the hard-working Midwestern mindset is far less prevalent elsewhere. Although there are dedicated, successful professionals and employees throughout the nation, the mentality and drive of the Wichita Workforce is far more focused and hard-working as a whole. Whether our children go straight to work out of high school or they go to college, Young Kansans possess a noticeable sense of drive and dependability. Because of this and many other elements, we are so proud to call the Wichita Metro area our home.
Elite Staffing Solutions, its owners, and staff recognize how special and unique Wichita Kansas is. We know that our employees show up to work with the intention of working hard and being dependable. If we were in another market, it is hard to imagine how successful we would or would not be due to the difference in work force mentality.
Wichita, Kansas is an amazing place with amazing people. We are so excited to have the privilege of providing jobs for our beloved Wichita Workforce. It is an immense pleasure to supply personnel for employers in this amazing place that we call home.
At Elite Staffing Solutions, we wholeheartedly believe in developing and maintaining relationships with employers and employees through our continued performance. We appreciate each and every one of our hard-working employees, and our clients can tell. Without clients AND employees, we would not be here.
As we focus on providing exemplary service to our customers, it is our culture and belief to treat each employee with the same value and dignity as we do our clients.
Whether you are looking for employment opportunities, or you need staff, Contact us today for more information!
The Wonderful Wichita Workforce
Article by Mike Gamache
Need Wichita Construction Workers? Contact us for day labor today!