Today I want to speak about how to increase workplace efficiency while keeping your team happy.
The linked article mentions three simple concepts that can produce effective results… Positive reinforcement, including team members in decisions, and minimizing distractions.
Building team moral will make reducing distractions easier.
Mobile notifications from social media, texts, emails, etc. can bring a person's productivity to a screeching halt. Every interruption could cost a few minutes of productivity or more. Imagine how quick the minutes add up when employees receive dozens of notifications every hour.
From a management prospective, mobile notifications are costing your company money.
Consider how you can reduce or eliminate mobile phone use in your department. Can you require all notifications to be turned off? Can cell phones be allowed only during breaks?
I really believe mobile phones cost a majority of US businesses a lot of money. The challenge is mitigating the cost while still increasing employee moral.
Read the article at the top of this post. Then consider how you can increase workplace efficiency and employee moral at the same time.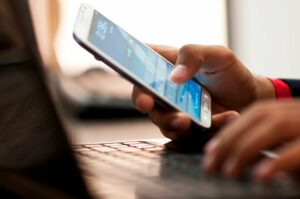 Increase Workplace Efficiency While Keeping Your Team Happy
Are you looking for Wichita general labor opportunities or personnel? Call Elite Staffing Solutions today! (877) 500-0420